Clôtures
St-Martin
Clôtures Saint-Martin was founded by Luigi Zampini, who has over 35 years of experience in the field. Our company stands out because of its professionalism, expertise, attention to detail, and good workmanship. In April 2014, Clôtures J.A. merged with Clôtures St-Martin and continues to offer excellent service like before.
Our wide range of ornamental and chain-link fences will match any style or budget. Our products are the combination of traditional methods with state of the art technology, which makes them durable, aesthetically pleasing, and requiring no maintenance.
Whether you want to fence off your yard, enhance the appearance of your property, secure the access to your pool, enhance your privacy or strengthen security, our professionals will advise you in regards to the solution that best meets your needs.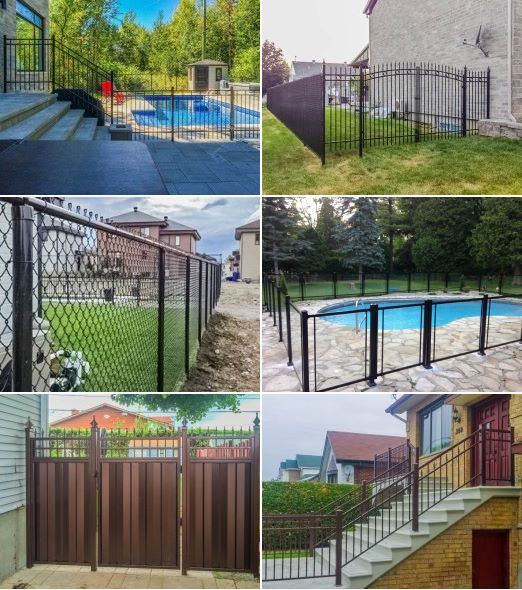 Je suis très satisfait du travail effectué par Clôture JA - St-Martin. Ils nous ont proposé un vaste choix de produits, ils se sont occupés de tout et ils nous ont accompagnés dans les décisions. En plus, ils ont travaillé très proprement et ils se sont même chargés d'enlever notre vieille clôture. Un service clés en main du début à la fin, je n'ai rien eu à faire. Merci pour tout!
Pierre B.
Laval - Mai 2014
Pour ce projet, j'avais beaucoup magasiné croyez-moi et Anthony de Clôtures JA - St-Martin a su non seulement me proposer les bonnes solutions, mais aussi à un prix très compétitif. Pour tous ces points, je suis comblé : échéances respectées, un très bon rapport qualité-prix, les lieux rendus en parfaites conditions, une belle communication pendant toute la durée des travaux. Il m'a même donné des conseils pour encourager mes voisins à embarquer dans le projet afin que nous fassions tous de belles économies en partageant les frais communs. Bravo sur toute la ligne à toute l'équipe de Clôtures JA.
Claudio V.
Laval - Juillet 2013
Nous avons eu une très belle expérience avec la compagnie Clôtures JA - St-Martin lors de l'installation de notre nouvelle clôture. Ces gens fiables et sympathiques ont réalisé du beau travail avec le souci du détail tout en respectant les délais prévus. Ils ont pris grand soin de ne pas endommager notre pelouse en plaçant des planches de bois sous leur machinerie lorsqu'ils ont creusé pour installer les poteaux. Après les travaux ils ont laissé les lieux propres, ce qui fut grandement apprécié. Félicitations à votre équipe pour son beau travail!
Magalie B.
Laval - Juin 2013
Satisfaction sur toute la ligne!
C'est un voisin qui nous a référé Anthony et son équipe de Clôtures JA - St-Martin, quel bon choix! Des gens sympathiques, compétents, efficaces, qui ont su répondre à toutes nos questions. Nous avons eu un bon prix, des produits de qualité, ainsi qu'une installation propre et rapide. Nous sommes très satisfaits et n'hésitons pas à vous les recommander. Merci à l'équipe de Clôtures JA pour votre excellent travail.
Félicitations à votre équipe pour son beau travail!
Robert N. et France T.
Rosemère - Juin 2013
In sales, installation, and repairs, our specialists bring their expertise to you in residential, commercial, and industrials areas.